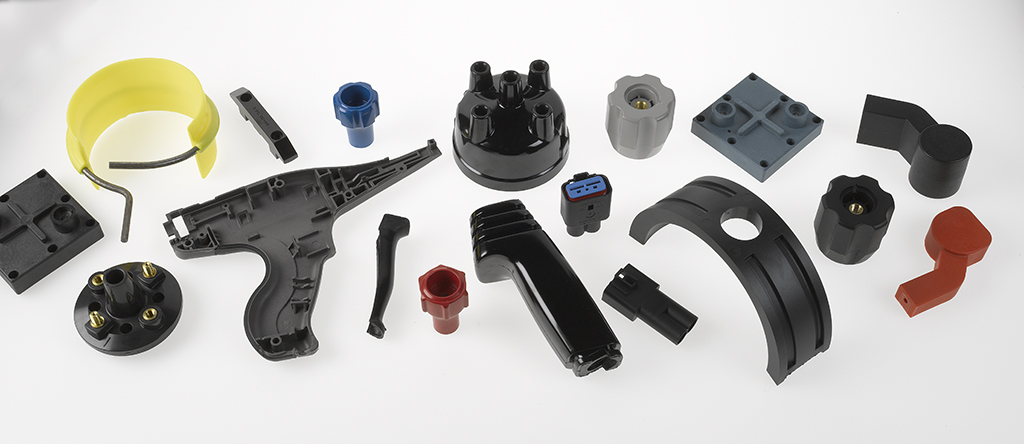 Every great idea, no matter how simple or complex, starts life as a thought. Davies Molding, with their custom molding service, can help you build the plastic parts for your great idea, exactly the way you need them, at every step of the way.
Design
Based on your input, Davies' engineering staff can help you create the exact look, feel, and dimensions of your ideal plastic part. Utilizing the latest CAD and 3D modelling software, they can easily make changes to be sure the part will meet your specifications. Davies Molding engineers can then lead the design into production by ensuring that high quality molds and tools are created to produce the best possible custom molded part for your needs.
Prototype
Your concept can 'come to life' as it is transformed into a 3D image. By specifying colours, materials, drilling, or other operations, you can digitally view the entire part from any perspective. They can even provide rapid prototypes so that real examples of parts can be evaluated before putting tool to steel.
Production
Davies Molding understands that quality and on-time delivery are essential to your business. Both Steadlands and Davies will provide you with a first class service that will stay within your budget. After your product is finished, the service doesn't stop there. We can ensure that parts can be ordered at any time, at any quantity you choose. We will work with you to ensure that your product is made with the quality and care that is needed for your continued success.
Portfolio
Davies Molding have created thousands of parts, in all different shapes and sizes – no project is too big for them to handle, and with both thermoplastic and thermoset molding techniques, you can get exactly the shape you are looking for.
Previously manufactured bespoke parts include mounts, for surveillance cameras and other video equipment, handles for high end ovens used in hospitals and nursing homes, and drip trays, as used to collect grease in fast food restaurants.
Thermoset or Thermoplastic?
What's the difference? A thermoplastic is a material that becomes soft and malleable when heated, and goes rigid when cooled. You can repeat this process, heating it, reshaping it, cooling it, a number of times without changing the chemical makeup of the plastic.
Pros
High Impact Strength
Attractive Surface Finish
Recyclable/Reusable
No Emissions
Can bond to other thermoplastics
Can be molded or shaped by reheating
Cons
Typically will soften with heat
More difficult to prototype
Short workable pot life, with some exceptions
A thermoset, on the other hand, undergoes permanent chemical change when it is treated with heat, catalysts, or ultraviolet light, which fixes its new shape, and cannot then be changed. Once you've set its shape, there is no going back.
Pros
Easy to process and laminate
May not need heat or pressure to form
Typically inexpensive
Typically stronger than thermoplastics
Better suited to higher temperatures
Cons
Often release emissions known as volatile organic compounds (VOCs)
Non-recyclable, and cannot be reclaimed easily
Options
Davies Molding offer a wide variety of secondary operations after molding your part, to save you both time and costs of shipping your part to another vendor for these services. These include:
Drilling
Hot Stamping
Hydrographic Printing
Chrome Plating
Silk Screen
Machining
Pad Printing
Bagging
Turning
Packaging
Laser Engraving
Assembly
Custom Colour Matching
Ultrasonic Welding
Branding
Kitting
Buff and Polish
Paint Fill
Vacuum Metalizing
Tapping
Decorative Pointers
Paint Coatings
Sand Blasting
3D CAD Imaging
Decorative Inlays
Thermoset: An Alternative to Metal
Thermoset plastics are successfully replacing traditional metal materials, where they provide value through improved performance at a lower cost.
Thermoset plastics are well suited to demanding requirements because they have the capacity to withstand heat and pressure for long periods of time without failure, they are impact resistant, and they have exceptional electrical insulating properties. Their dimensional stability, creep resistance, chemical resistance, stiffness, and high temperature capabilities make them the preferred material where reliable performance in adverse conditions is imperative and can be used as a cost-saving alternative to metals.
Why Davies Molding?
If this hasn't persuaded you that Davies Molding is the right choice for your custom plastic molding needs, what else can we say to convince you? How about if we point out a couple of extra facts about Davies Molding?

Best Fit Manufacturing – By choosing Davies Molding as your manufacturing partner, you will have one point-of-contact for all the services you need, in just one vendor. Services such as mold design and development, production supervision and quality control can all be handled by Davies, making your project simple and easy to manage.
Risk Mitigation – You will have access to a global operations network, and a well documented, thorough disaster recovery program that minimizes risk from any disruptive factos in producing your product.
IP Protection – Davies Molding maintain a high level of controls throughout the development process to ensure your assets are protected. This has led to them being trusted by all manner of clients over the past 80 years.
Supply Chain Compression – This is, quite simply, the elimination of unnecessary steps in the logistics chain that lead to the manufacture of your product. With Davies handling all of your molding and manufacturing requirements, your quality assurance, inventory maintenance, and shipping costs will be reduced, and your time to market minimized.
Comprehensive Quality Assurance – With end-to-end, single-source responsibility for manufacturing and delivery, Davies' strict quality auditing throughout the entire molding and manufacturing process, and adherence to REACH, ROHS, and Conflict Materials requirements are all major advantages to make sure your part is produced right the first time.