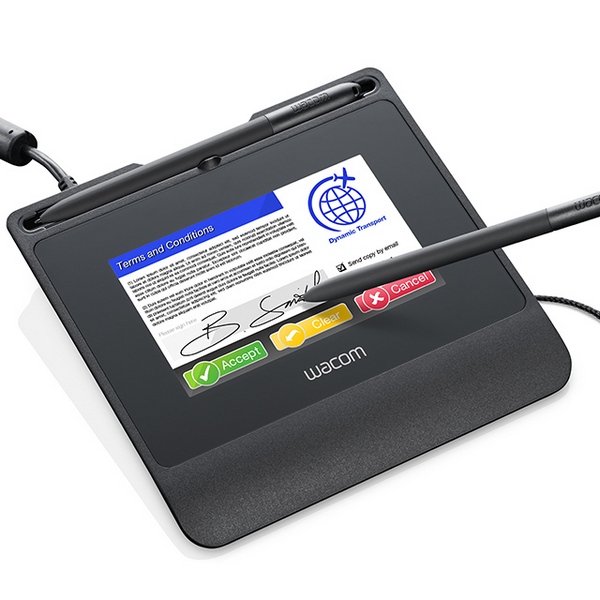 Whether you're in a back office, or going door-to-door, whatever your application, Steadlands has an electronic signature solution that suits you perfectly. From a simple signature pad to sit on a quiet desk to sign letters, we can offer you a selection of esignature devices that reaches up to a completely portable solution capable of converting hand-completed forms into electronic documents.
At the entry level, we offer the ePad, ePad II, and STU-300B. All are suitable for simple signature capture, although the STU-300B also boasts a small LCD screen that allows a signer to see their signature appear under the "pen". The ePad II  also has an identifier code that is unique to each separate pad, allowing an administrator to determine exactly which ePad II was used to capture a specific signature. All three of these units are small and light, and so will easily slip into the side of a laptop case for easy transport, although do still need to be plugged into a computer to work.
The PHU-111KO Clipboard, on the other hand, is a rechargeable, portable solution that lets you complete entire forms (in ink, no less!), and have them automatically transcribed into electronic documents. Those documents are then saved on a local storage device, usually a mobile phone or tablet, and can later be transferred to a company network. Clever use of barcodes also means that the Clipboard can handle multiple documents at once.
For the public, customer facing application, we would recommend you look at Wacom's DTU-1031X, the DTU-1141B, the DTH-1152, and the DTK-1651. All of these models plug into a PC and are used as you would a second screen. But, thanks to the electromagnetic resonance technology used in the screen and stylus, these tablets are far more useful than simple monitors. The ability to act as a second screen, but with touchscreen capability, means that these tablets are ideal for use in a customer facing environment that requires the customer's input. Completing entry forms at hotels, or selecting seats at the cinema, are just a couple of examples of where the DT* series will come in useful, and they are, of course, fully capable of handling handwritten signatures on their electronic documents.
In the middle of the range, you will find our most popular esignature solutions. The final two pieces in the ePadLink range are the ePad-Ink, and the ePad Vision, and from Wacom, the STU-430, STU-430V, STU-530, STU-540, and STU-541. All have screens and are suitable for customer facing applications, although they do not have the "full page" capabilities of the DT* series. They can all, however, be used to display simple marketing messages, or even ask questions of the person using the pad. The STU-430 pads, and the ePad-Ink are limited to black and white images, while the Vision, and the higher end STUs are fully capable of displaying colour images with remarkable detail.
All of our esignature solutions come with their own developers' kits, drivers, and software. For the ePad range, this comes in the form of IntegriSign Desktop, an application which incorporates the SDKs and holds ready-made plug-ins for Microsoft Word and Excel, and Adobe Acrobat. Also available is a standalone piece of software called pDoc Signer which allows for the signing of PDF documents without the need for a full blown version of Acrobat.
The Wacom series of signature pads also has a standalone piece of software for PDF signing, this one named SignPro PDF. The rest of the download for the Wacom pads is all contained in a pair of SDKs, designed to allow you to integrate Wacom's signature solutions into your own software.
Whatever your application, we can help you find the right solution. For more information, or to arrange a demonstration, please contact us.